The Media Machine was an integral part of the 6th Moscow Biennale's main project — for ten days the bloggers, photographers and cameramen documented what was happening in the VDNKh's central pavilion. Below are the video interviews with the artists who participated in the 6th Moscow Biennale.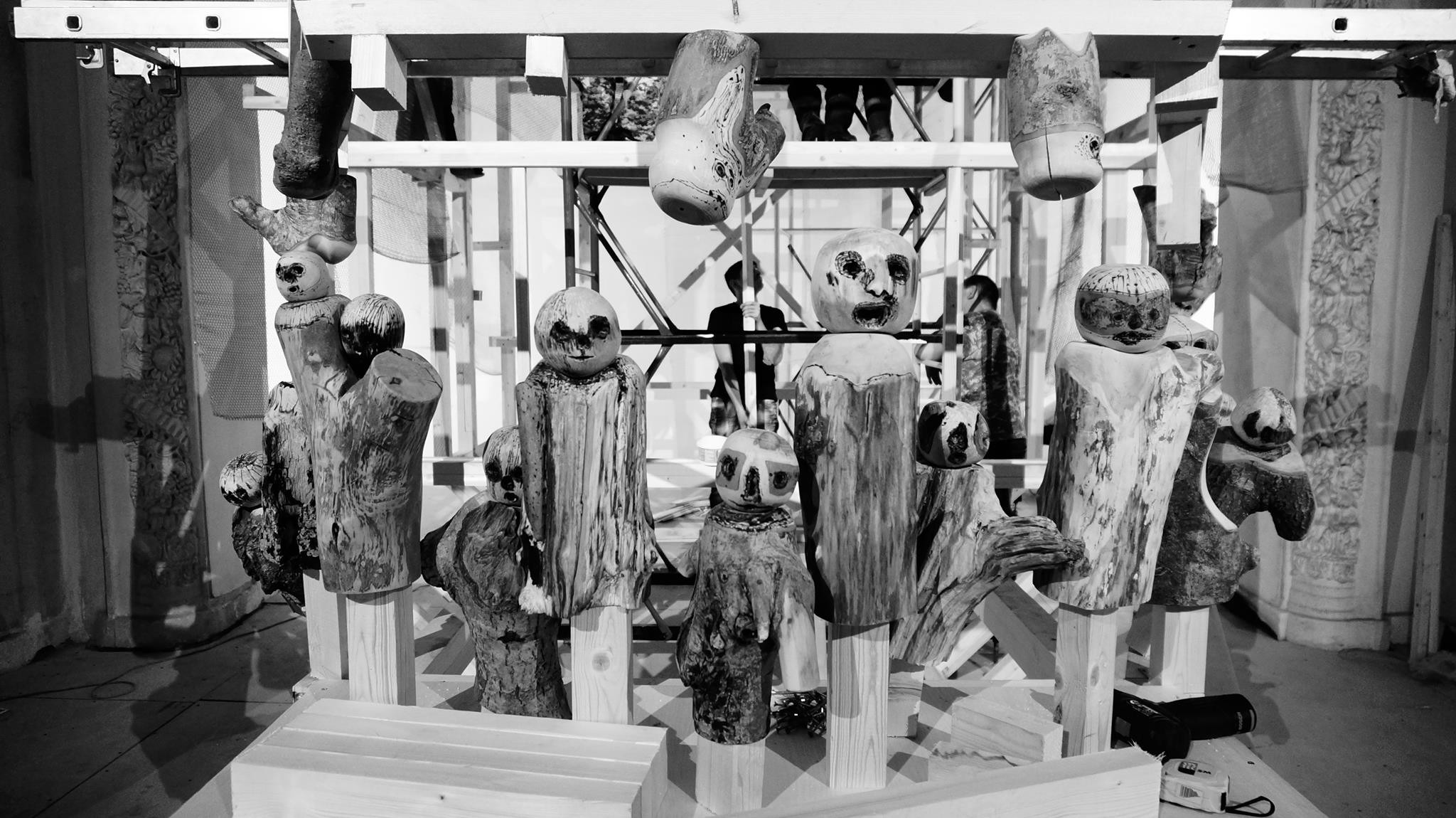 Els Dietvorst
The graphic artist, writer and filmmaker Els Dietvorst created a metaphor, as she described it, for war, human transcendence, respect, and migration. She talks about two of her works that were presented at the Biennale. First is her poetic film made in the genre of "creative documentary", based on the farmers' stories she gathered a small Irish village, then rewrote and reenacted. The second one is a huge skull that was created in cooperation with other participants of the show.
Rana Hamadeh
Rana Hamadeh's performance 'Can You Pull In An Actor With A Fishhook Or Tie Down His Tongue With A Rope?" has organically transformed into a conversation between the artist and curator Defne Ayas, where the former clarified the background of her own work. This performance is a part of a larger series "Alien Encounters" that were influenced by such notions as "contagion", "infection", "hygiene", "immunity", and "resistance". The last term also signifies institution of political resistance that in the Middle East was used as a pretext for military oppression. Trying to overcome or circumvent the discursive impasse that precludes one from talking about the violence in that region, she recourses to the Shiite ideas and particularly to the ceremony of Ashura that gives voice to the oppressed. The main claim of Hamadeh could be summarised in her ambiguous statement: "Justice is an extent to which one could access dramatic means of representation."
Leon Kahane
Berlin-based artist Leon Kahane describes ideas behind his ballet performance that he enacted every day of the Biennale in the main room of the Central pavilion. His piece reflects on his own role as an artist from Western Europe who has been invited to work in Russia during the current political confrontation. He decided to play with the distinction between liberal arts (contemporary art and performance in this case) and high culture (particularly, ballet), by publicly learning to dance with a professional teacher. By doing this he clashes two paradigms: the idea of perfection and traditionalism implicit in high culture and reflection and gathering inherent in liberal arts in such a way that the former could be transformed.
Augustas Serapinas
Artist Augustas Serapinas — whose contribution for the Biennale was a tea room built within the scaffolding construction hidden behind a huge painting by another participant — shares with Maya Van Leemput his impressions of the discussion he attended. He speaks of the following paradox: notwithstanding that different spheres of knowledge such as technology, politics, and economy constantly move foreword, we start to forget things. Serapinas hopes that he would not lose his capacity of communicating with others, he also states that our past defines our present.
Babi Badalov
The French-Azerbaijani artist Babi Badalov talks about his admiration for the Russian culture and society, but adds that he does not understand — and in fact is very upset with — its recent politics. Particularly, he touches on the phenomenon of Russian machismo (especially in the international politics), which is aggressive, inflexible and does not want to establish any productive dialogue with Europe.